It's the Blog You've Been Waiting for Since 1962!
By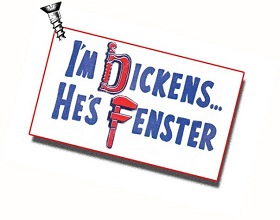 Considering that, you look pretty good for your age.
This is where you can find out the latest on the progress of the I'm Dickens He's Fenster DVD project. Have a few laughs. Talk amongst yourselves. (That's what "Comments" are for. Please leave yours below!) Watch videos of Dickens and Fenster creator Leonard Stern (Get Smart, McMillan & Wife, The Honeymooners, Sgt. Bilko) and the people in the trenches making the DVD. For more background ad naseum (screen guard optional) on the history of the show, please also see our website, www.ImDickensHesFenster.com .
You'll find snippets of this historical info on other pages of this blog, but the main purpose here is to keep you up to date on future DVD developments. If you're nosy and want to be first to know what we're doing, just drop your email in the box at right. You'll receive updates on the production of the DVD as well as sneak preview clips from classic episodes of the show. Just for being smart enough to sign up, you'll get even smarter. We'll also give you an Mp3 download of an exclusive interview with Leonard Stern that'll give you the inside scoop on one of the funniest and critically acclaimed TV shows ever cancelled .  Once again, welcome …and stay tuned!!